While walking in a Texas neighborhood that had been left flooded from Hurricane Harvey, one high schooler noticed a toddler walking by herself, and is now being hailed a hero for what he did to keep her safe.
Since Hurricane Harvey hit, over 19 trillion gallons of rain has fallen on Texas, which has resulted in 30,000 people being displaced, over 13,000 rescues, and at least 33 confirmed deaths. So when Renz Michael, a high school sophomore, spotted a toddler wandering around a flooded neighborhood in Pearland, he knew he had to help her find her family.

"I found this little girl walking in the streets alone. I decided to get her back to her house," Michael wrote in a tweet, which quickly went viral. The concerned teen asked the toddler wearing just a onesie where she had come from, and followed as she led him back.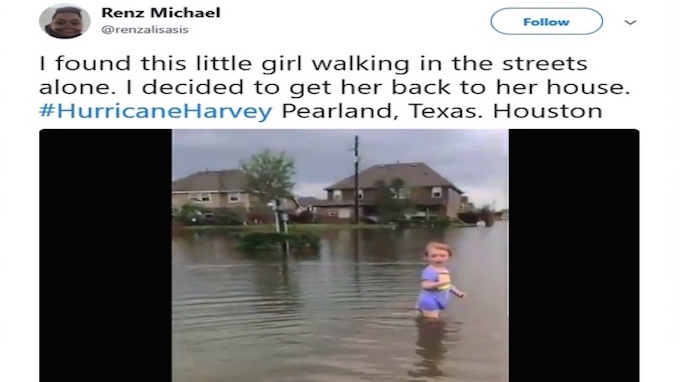 Eventually, the girl managed to lead them back to her home. As Renz and the girl approached the house, her terrified father came out and explained that she somehow snuck out of the house and must have wandered off. "She has no idea how lucky she was to have you looking out," said Twitter user Jen Vieria.
What would you do if you found a toddler wandering the streets during a flood? Let us know what you think in the comments below and please SHARE this with friends on Facebook.