When one Texas woman found out her soldier husband had been killed on July 19, 2003, she was devastated by his loss, especially since their son was just nine months old.
"When he died, I wasn't thinking ahead to when Justin (his son) would be driving 15 years later," Jessica Johns said. But this past August, Johns found the registration to her late husband's car, which she sold after he passed away, and she got the idea to track down the car and give it to her son for his 16th birthday next year.

So Johns turned to Facebook for help searched for the car to surprise Justin. "Can someone please help me find this car? It's a 1999 Toyota Celica convertible," she explained. "If you facebookers could work your magic and help me find it, it would be an amazing present for his 16th birthday if it hasn't become a tin can by now."
"I was thinking I would go on a yearslong search to find this car," Johns said. But days later she was contacted by the daughter of the car's current owner. The woman wasn't sure if her dad would be willing to sell the car, but passed along his phone number. "It took me 12 hours to get the courage to call him," Johns said.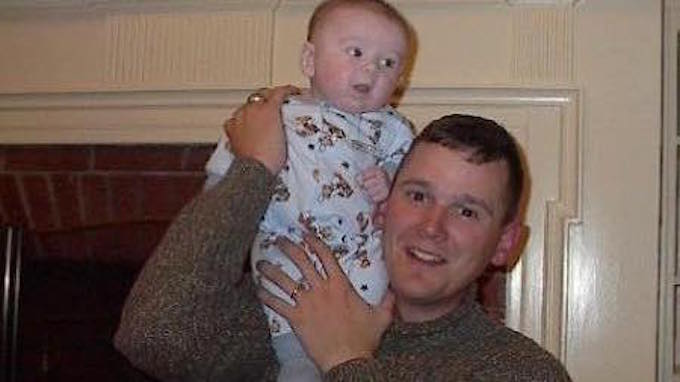 Once Johns worked up the nerve to make the call, she explained the story and the Utah man said he needed time to think about it. "I think that your son will get more enjoyment out of having his dad's car than I would," the man told Johns when he called her back an hour later.
A Utah-based organization, Follow the Flag, heard about the story and helped raise money to help Johns buy the car back and restore it. "Imagine the feeling of holding the steering wheel of a car your late father once drove. A father you never knew. A father who died in the line of duty serving his country," the group's co-founder, Kyle Fox, said. "What a priceless gift."

This past October, Johns presented the priceless gift to Justin at his 15th birthday party. "I started getting emotional because I never saw John drive that car home," Johns said. But all the trouble was worth it when she saw Justin's reaction. "I was waiting for him, for it to click that's Dad's car," she said. "He starts looking at it, gets in. He looks so much like his dad."
Watch the entire video below to see the awesome moment this boy was reunited with his late father's car.

Can you believe this mom managed to track down her husband's car 15 years after he passed away? Let us know what you think in the comments below and please SHARE this with friends on Facebook.