Authorities are searching for a man who was seen on a street corner in Southeast Portland trying to choke an innocent dog.
Investigators who received the reports of animal abuse are looking for the man and on Wednesday the Oregon Humane Society issued a release about the investigation of the incident. According to the Oregon Humane Society, the man is approximately 6ft tall and at the time of the incident, he was wearing a gray conductor cap, a black shirt, tan pants and black Vans shoes. A woman was also seen with him at the time of the incident.

The horrifying act of animal abuse was captured on camera near a food cart on SE 27th Avenue and SE Belmont St., and images show a man yanking the small dog into the air by its leash. At one point, the dog was knocked off balance before tumbling into the street.
Bystanders even heard the man yell, "F*****g liberals, this is how you're supposed to treat your dog."
After the Oregon Humane Society posted photos of the incident to their website and received an overwhelming response from the public, they issued an update on the incident saying:
" Thanks to the spread of this story on social media, OHS Investigations has received a number of good tips and is following up on all. This is an open criminal investigation, so please understand that OHS may not be able to share more details with the public while the case is ongoing. OHS Investigators and local police are working on all leads. When possible, OHS will update this story with new information."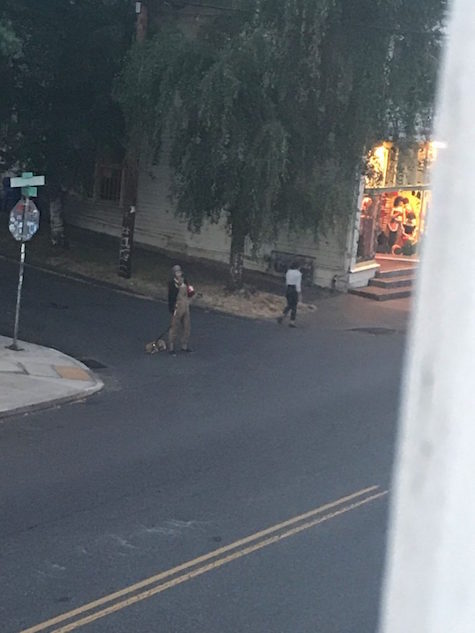 Anyone with information regarding this incident is encouraged to contact OHS Investigations Department at (503) 285-7722 ext. 214.
Can you believe someone can be so cruel to an innocent animal?
Let us know in the comments and please SHARE this story with your friends and family on Facebook!