Warning: The following article contains graphic content that may be upsetting to some viewers.
We really don't know how they do it, but time and time again, the rescue organization, Animal Aid Unlimited, India, changes the lives of sick animals left to die.
In yet another incredible rescue video, Animal Aid Unlimited saved the life of a street dog in India who was so sick she couldn't even stand. When rescuers found her, painful sores covered her entire body, and it was clear she had given up all hope.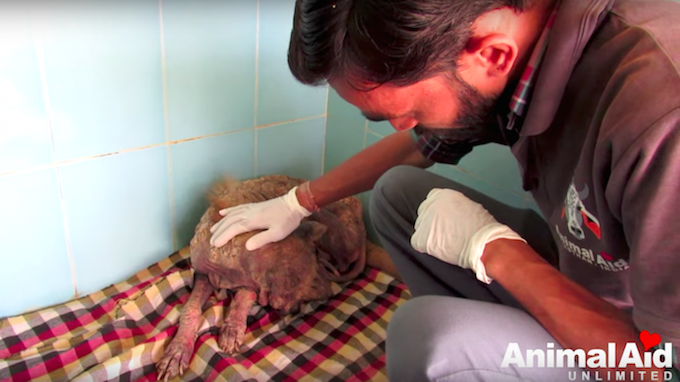 The men tried to feed the dog, but the last thing she cared about was food when she was in such excruciating pain. Animal Aid lifted up the lifeless dog and took her to begin the process of nursing her back to health.
They wrote on their YouTube channel: "Her body was suffering, but her spirit was even more defeated." First, rescuers gave her an anti-inflammatory to soothe the painful mange in her skin, and shortly after, she took her first few bites of food. "This may have been her first full meal in many days," Animal Aid Unlimited said.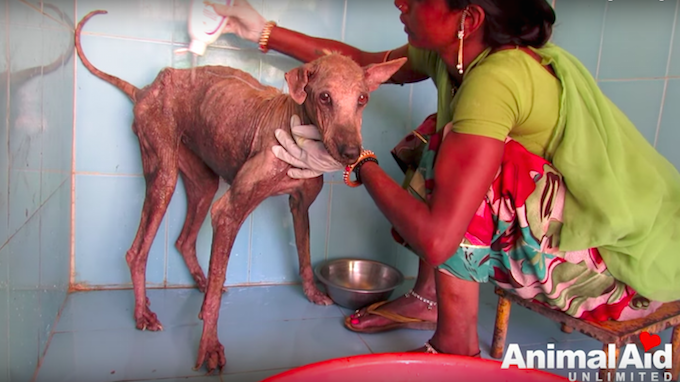 They then applied special lotion to the dog to soften her painful scabs, and also gave her IV fluids to treat her dehydration. "Now her exhausted soul needed to rest and let the healing begin," rescuers wrote. After a few days, the dog who they named Helen, was ready for her first bath. At this point, all the scabs had come off and her skin was beginning to heal.
By 10 day, Helen's will to live was getting stronger, after several months, Helen looked like a new dog. Animal Aid Unlimited said: "She is a very old girl, toothless and frail. At first. we thought we might lose her, but Helen's spirit was only hidden, never gone…"
Watch this incredible video of this dying dog's transformation below!
If this rescue story touched your heart, please SHARE it with your friends and family on Facebook!