In a shocking video, a California family was kicked off a Delta flight and threatened with jail time for refusing to give up a seat for their 2-year-old son, despite having paid for it.
Brian and Brittany Schear of Huntington Beach, California, were on a flight from Maui to Los Angeles with their two infant children on April 23, when Delta agents said their 2-year-old had to give up his seat, or the couple would face jail time.

Brian Schear explained to NBC News that the family initially purchased a ticket for their teenage son on the red-eye flight, but they decided to send him home early so that their 2-year-old could have a seat on the plane. The couple were also traveling with a 1-year-old. Schear said the ticket agent knew about their situation at the gate, and the family agreed to put their child in a car seat on the aircraft.
Once they boarded the flight, Delta agents told Brian, " So this is a federal offense. You and your wife could be in jail and your kids will be in foster care." "We're going to be in jail and my kids are going to be what?" Schear interrupted. "It's a federal offense if you don't abide by it," she said.

"I bought that seat … you're saying you're going to give that away to someone else when I paid for that seat. That's not right," Schear responded. The Delta employee said that because Schear's teenage son was not present and the ticket was in his name, that the 2-year-old could not sit in the seat and had to give it up. The family ultimately had to make the decision to get off of the plane, otherwise they would face jail time.
The entire conversation between Brian and the Delta employee was captured on camera by Brian's wife, Brittany. She later said, "I'm not a confrontational person … and when you're a mother and you have your 1-year-old and your 2-year-old and they threaten to take your kids away from you, I mean whether that's possible or whether that's, you know against the law, it just, it made my heart drop."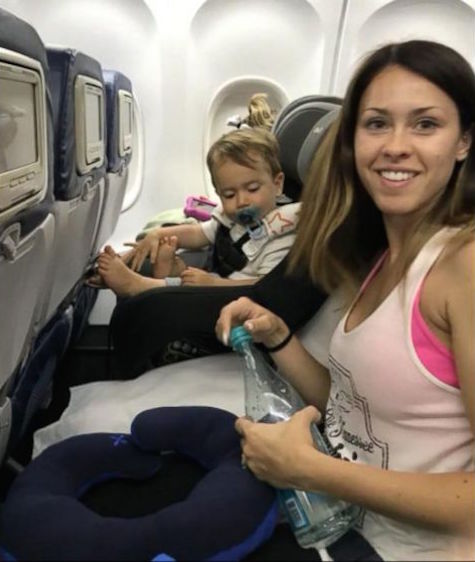 Only after the video spread across the internet did Delta issue a statement saying, " We are sorry for the unfortunate experience our customers had with Delta, and we've reached out to them to refund their travel and provide additional compensation," the company said in the statement. "Delta's goal is to always work with customers in an attempt to find solutions to their travel issues. That did not happen in this case and we apologize."
None the less, the Schear's did not care for their apology, as the airline put them through enough stress and embarrassment.
Watch the video below:

Do you feel Delta was out of line?
Let us know in the comments and please SHARE this story with your friends and family on Facebook!